Discover more from Hi Everyone with Hillary Kerr
Shopping suggestions + recommendations + occasional advice
This Is How I Packed for a 72-Hour Work Trip to London
Carry-on only, of course.

Welcome back to Hi Everyone. I'm so glad you're here! If you like what you're reading, please consider sharing this newsletter with your community and following @hillarykerr on Instagram. All products mentioned are independently chosen, and some may be affiliate links. Your support is appreciated.
Full disclosure: I am writing this story whilst deeply jet-lagged, as I just returned from a whirlwind work trip to London that involved a huge, once-in-a-lifetime presentation, client meetings, colleague meetings, and some short workouts, too. It was the first time I'd traveled internationally in a handful of years, and honestly, I was a little rusty when it came to packing, which is hard to admit, as I used to have a PhD in business travel in my pre-kids days.
But don't worry, I still have a few tricks up my sleeve, and today, I'm going to share what I got right as well as what I'd do differently going forward.
WHAT I GOT RIGHT
1. Kept it carry-on.
Maybe it's just me, but I feel like half of my social media feed this summer was just folks lamenting the fact that their checked bags never arrived on their long-awaited, long-planned-for trips. And while I realize that one doesn't get automatic points for sticking to a carry-on bag for a shorter work trip, I still feel pretty good about the fact that I was able to pack eight full looks, four pairs of shoes, three workout outfits, and two travel-day options in a single bag.
2. Picked one color palette.
For me, the trick is to plan your whole travel wardrobe around a limiting set of parameters. In my case, this meant everything had to work with one handbag, one outerwear option, and one color palette. To make this happen, I started with my most important look first and then built out the rest of my packing options from there.
3. Planned everything around my most important outfit.
As I said, I had to make a big work presentation in London, and rather than buy a new outfit for this occasion, I followed some old advice and wore something I already had and loved, as I knew it would make me feel confident and comfortable. I also like a personal message in what I wear, so I paired a black Roksanda pencil skirt with a bow on it (which has been in my closet for at least six years and is now on resale sites!) with a black vintage three-quarter-sleeve J.Crew Tippi sweater. (They no longer make my exact sweater, but J.Crew's Halle Crewneck Sweater is similar, and I also packed the Cropped Cashmere Crewneck Sweater as another option; I take a small in both.) For shoes, my trusty, beloved Dior J'Adior Slingback Pumps, which are an investment but make me feel pulled together no matter what. With the outfit set, I decided on my coat for the trip, a black-and-white wool tweed herringbone double-breasted midi coat that I got on sale years ago and is one of my most-worn purchases to date. (Looks like there's one on eBay?) The coat is super cozy and also doubles as a lightweight blanket for the plane, so I decided to wear that for travel, which would also save room in my bag for other things.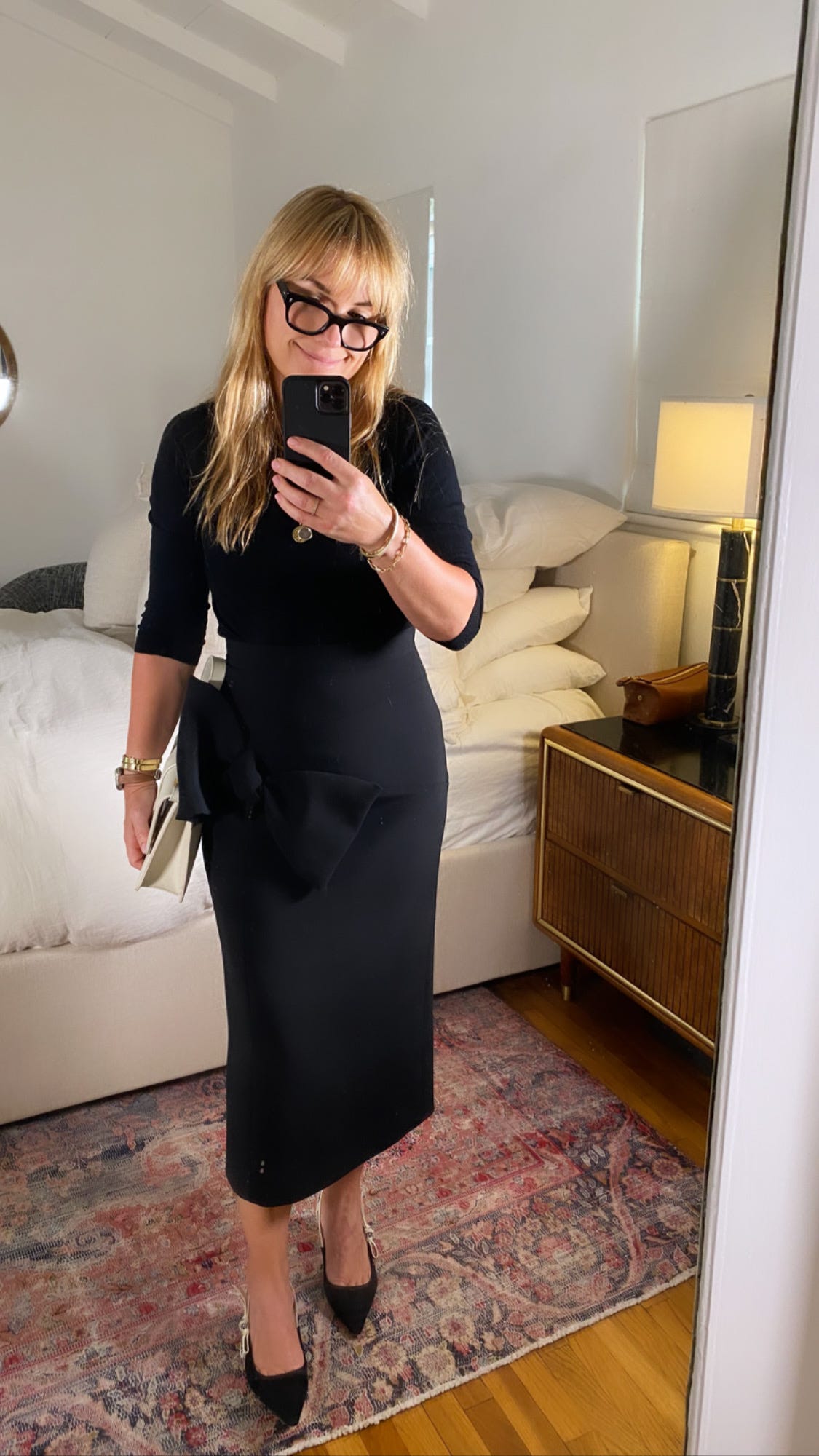 Testing the key look for my presentation. Vintage J.Crew sweater, vintage Roksanda skirt, Dior shoes + bag.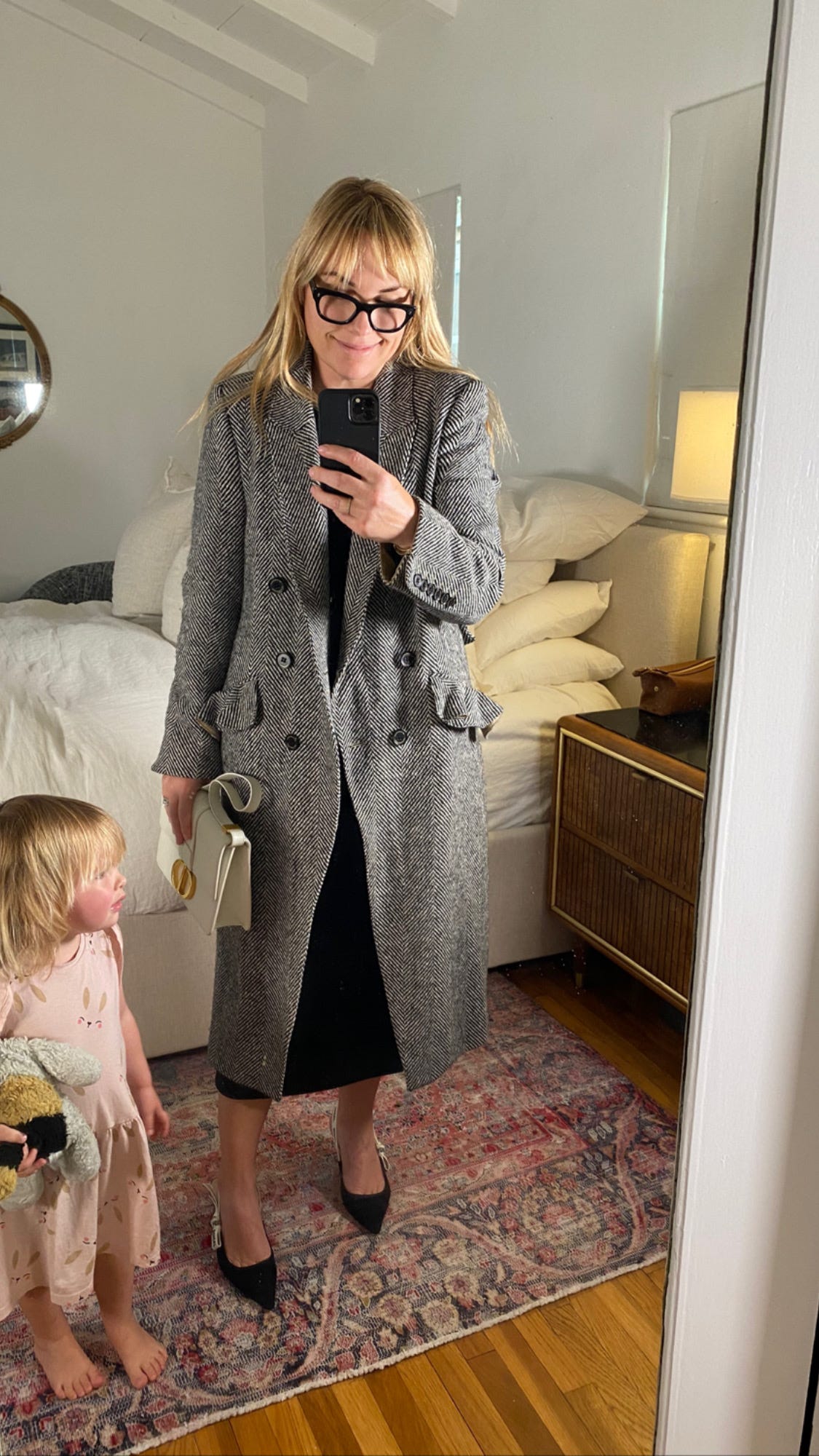 And with the vintage Burberry coat. This coat is one of the most versatile things I own. Neutral enough to go with a wide range of colors and styles.
4. Scheduled out each day and corresponding looks.
From there, I wrote down each day I would be in London, and what kinds of clothes the day would require, and planned for two outfits per day, just in case. Everything would have to work with the black-and-white Burberry coat and the one handbag I packed. I ended up with the following pieces: a black silk Anine Bing skirt, a black WWW x Target cotton sweater, a Hogwarts-chic black silk dress with shoulders that seem very Professor McGonagall, a black long-sleeve dress with purple flowers on it, which felt like a wee nod to trad British style, an older pair of black Jimmy Choo patent and mesh slingbacks that never hurt my feet, a pair of low black ankle boots, super-soft Vuori joggers, a black-and-white long-sleeve T-shirt like this one, an oversized super-soft Anine Bing graphic tee like this one, my go-to Aritzia cropped carrot pants, another J.Crew cardi, a couple of pairs of my favorite Free People leggings and sports bras, and my workout shoes, which I wore on the plane.
Unsurprisingly, I didn't need all of this, but it gave me options, all worked together, and easily fit in one carry-on suitcase.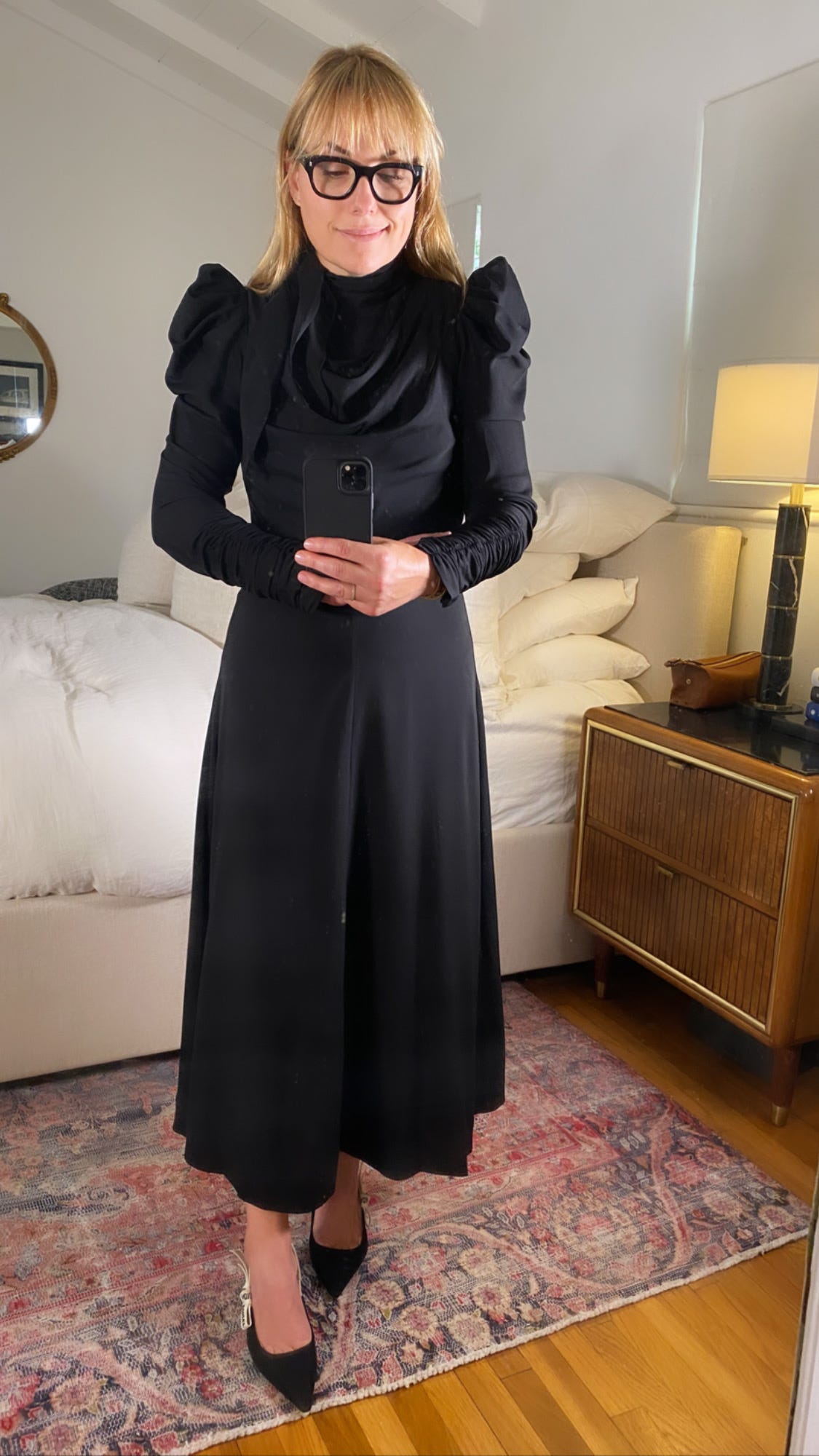 It's giving Hogwarts, no? It was raining the day I wore this, and I knew the day called for some walking, so I styled it with a pair of relatively flat black ankle boots.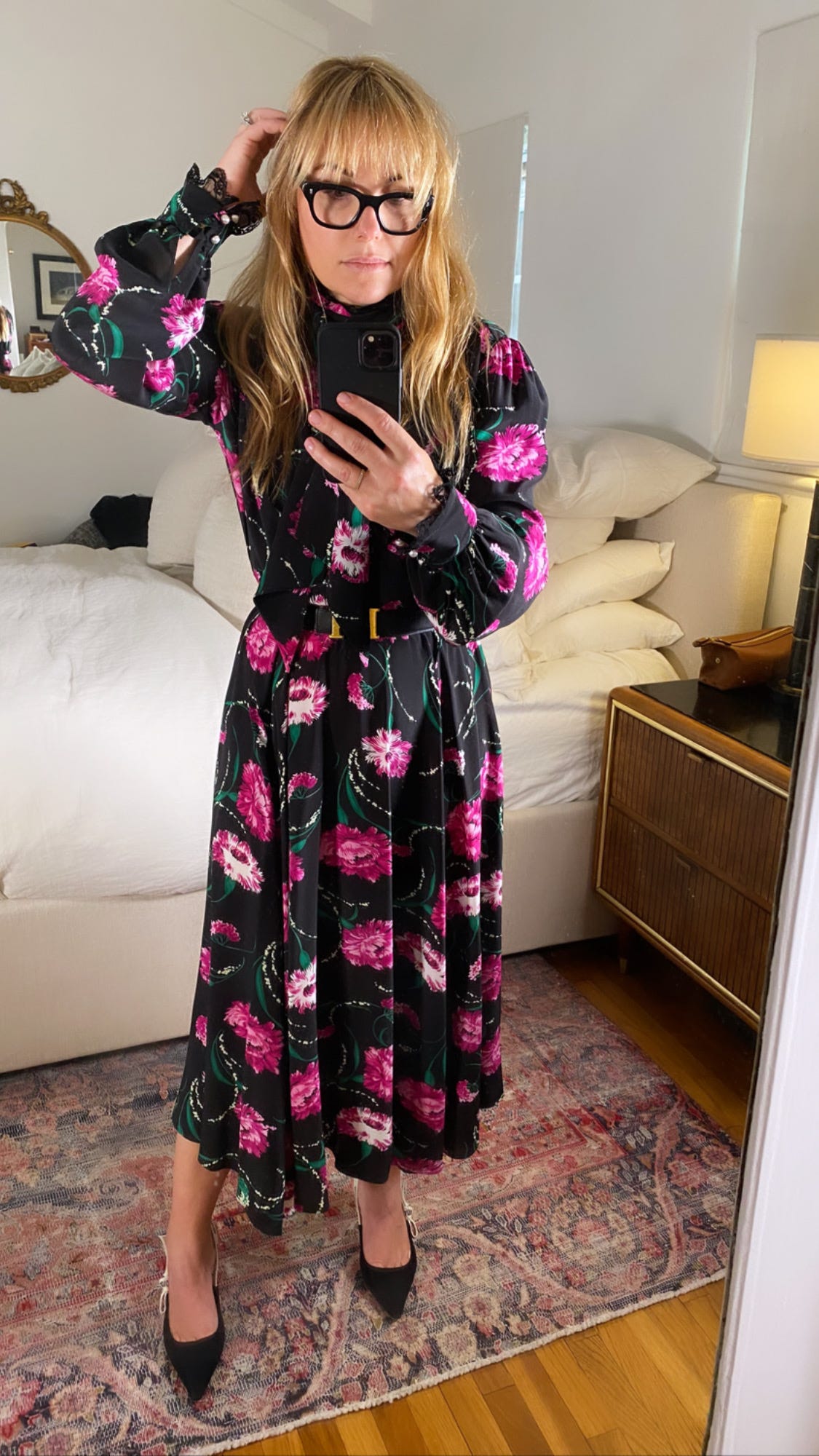 I wear this Rodarte dress all the time, and it always seems to bring me good luck. And I like the story of a dress designed by two women in California + a very British Burberry coat.
5. Used pouches to stay organized.
For my personal items, I always carry a black leather zip-top Tumi bag that was a college graduation gift from my high school friends' parents (!!!) that I still use. It works because I can just load my daily work bag, an oversized Mansur tote, into it directly, which then carries my laptop, handbag, and pouches. I pack all of my cords and adaptors into one pouch, have jewelry in another, and then one with all of my other travel necessities (passport, hand lotion, U Beauty Plasma Lip, medicine, whatever).
6. Asked for a handheld steamer in my room.
Before traveling, I requested a handheld steamer in my room, so the second I arrived, I fully unpacked and steamed all of my clothes for the whole trip. This meant I was completely ready to go and could see all my clothes and shoes easily and in one place.
7. Used my Cadence capsules.
I am deeply smitten with my Cadence capsules for travel. I use them for transporting face wash, moisturizer, foundation, probiotics, shampoo, conditioner, and more. I interviewed founder Steph Hon for Second Life earlier this year and immediately bought these TSA-compliant, magnetic, personalized containers that are made from recycled or ocean-bound plastic. They haven't let me down and are perfect for a 72-hour trip.
WHAT I GOT WRONG
1. Too much stuff.
I'm not really mad at how much I packed, because having options makes me feel safe, but I changed my clothes much less frequently than I imagined and ended up with too many outfits.
2. Didn't research adapters/converters.
I ended up taking way too many adapters and converters with me, which are heavy and were totally unnecessary. I wish I would have taken the time to do maybe five minutes of research before just throwing a zillion options into my suitcase. There were a million USB ports in my hotel room, which handled the majority of my electronics charging, and my computer only needed an adapter, not a converter. Whoops.
Do you have any packing tips or tricks? Are you into packing cubes? Roll everything? Swear by storing your socks in your shoes? Please share your insights below, as I'm always looking for ways to streamline my suitcase.
As always, thank you for being here, and thank you for sticking around. If you have any questions or concerns, or want me to touch on any topics in particular, I'm all ears. Leave a comment on Hi Everyone's Bulletin or DM me on Instagram—I'm @hillarykerr—my inbox is always open!