I Tried On 22 Beloved Black Bodysuits. These 4 Are Worth Your Money.
The criteria? Basic, black, and beyond comfy.

Welcome back to Hi Everyone. I'm so glad you're here! If you like what you're reading, please consider sharing this newsletter with your community and following @hillarykerr on Instagram. Also, FWIW, all products mentioned are independently chosen, and some may be affiliate links. Your support is appreciated.
First, a little news: I learned this week that the platform I use to create and send this newsletter—Bulletin, which is operated by Meta—is closing in a few months. While I'm sad that this is the end of the road for this first iteration of Hi Everyone With Hillary Kerr, over the next few weeks, I'm going to find a new platform, hopefully. (Substack? Ghost? Beehiiv? If you have a recommendation, please either leave me a comment or DM me at your leisure.) I'll be able to bring all the past newsletter stories with me, so the archive will live on. You may have to sign up for the newsletter again, but I promise to share more details once I have them figured out.
While I'm looking for Hi Everyone's new home, there might be a short hiatus in newsletter stories, but fret not. I promise they will be back. It has been an absolute pleasure and joy to work on this project and speak directly to this wonderful readership, and I'm truly honored that you all have made time for me and this newsletter.
But enough with this housekeeping! Let's talk about… bodysuits. Yes. Bodysuits!
---
As someone who was a teenager in the '90s, I have a perpetual soft spot for bodysuits. A basic black bodysuit is a foundational piece of my wardrobe, and I like them year-round and styled with everything from first-generation Current/Elliott boyfriend jeans (that I bought in 2008 and still wear to this day; The Great's The Wayne Jean is probably my favorite modern, evolved iteration, made by the two geniuses who created the first style, of course) on the weekend to vegan-leather midi skirts for work.
For many years, Alix NYC's Classic Collection Ludlow Bodysuit was my go-to for nights out, and I invested in a Wolford Buenos Aires Bodysuit circa 2015, which is still going strong. So both of those are recommended without reservations, but what about all the new options on the market? As always, I asked for your favorites, bought an inordinate number of bodysuits to try on—ranging from extremely fancy (The Row) to Amazon-famous (doesn't live up to the hype for me, but apparently 26,000 folks sure like it)—and am happy to report that I found a few new options for my wardrobe. And yours!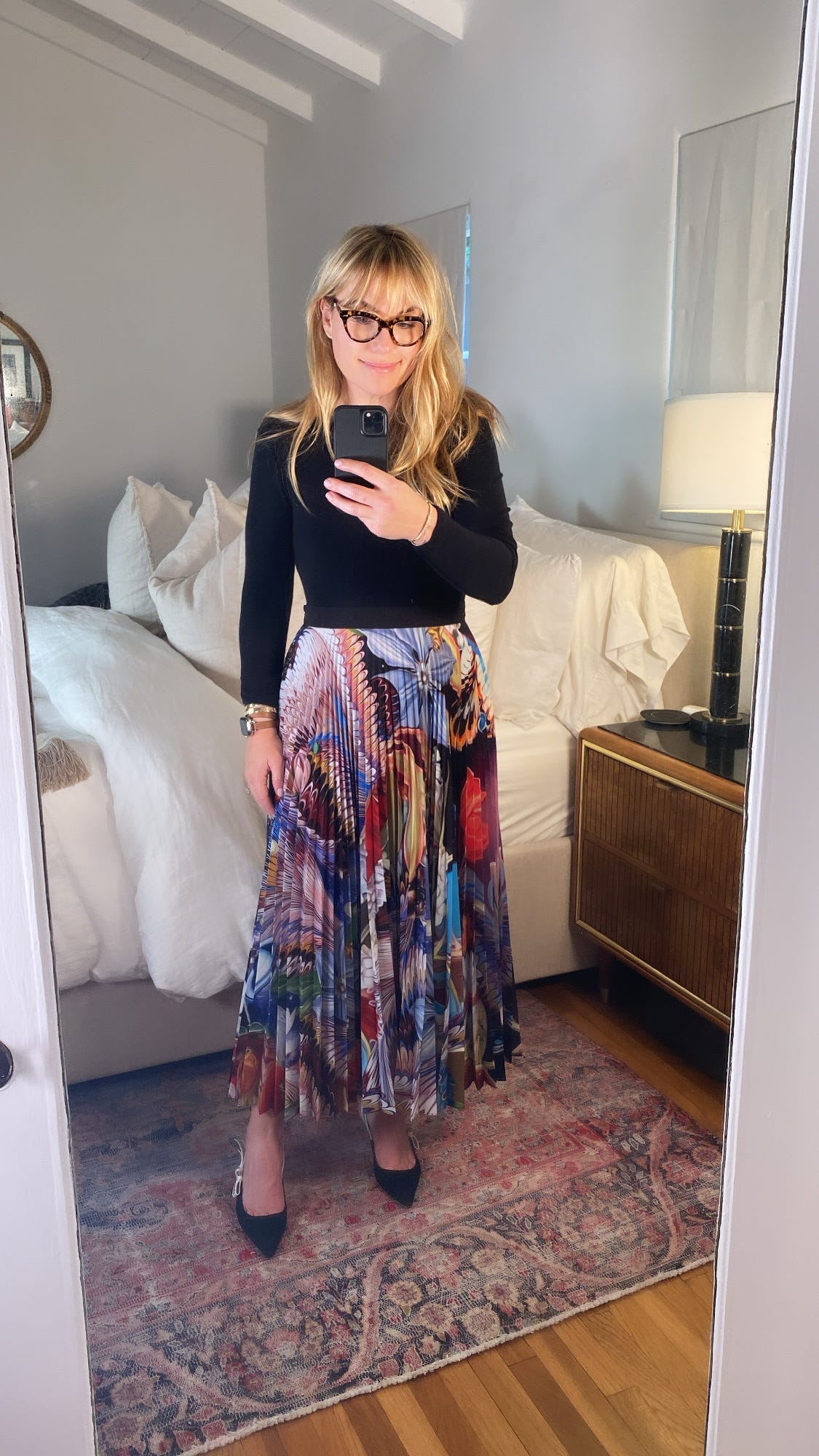 I know it seems like I work for Commando, but I assure this is not the case. I just love what the brand makes. This is the Butter Crewneck Bodysuit, styled with a Mary Katrantzou skirt I got approximately eight years ago, and my beloved Dior J'Adior Slingbacks.
1. Commando Butter Crewneck Bodysuit ($108)
While the Commando crew-neck bodysuit is not the least expensive of the bunch, when I tell you it feels like heaven, I mean it. It's the thinnest bodysuit I tried on and so wildly soft it's remarkable. Unlike some of the other options I considered, it's fitted without feeling like a full-on compression garment, which is really nice.
I bought a medium, which is a little big/tiny bit loose, which I like. If you're in need of a thin layer for fall and winter, this is an excellent investment. I will wear it on its own with my favorite Mary Katrantzou pleated skirts, as seen here, until it gets cold.
(The brand's Butter Tank Bodysuit is also excellent if you, for reasons unbeknownst to me, despise sleeves.)
While you're shopping, if I were you, I'd also pick up its perfect opaque tights, and if you are in the market for the world's best stretchy maxi slip dress, Commando makes that too. And last, but not least, if you're curious about the female-founded, made-in-the-USA brand, I interviewed the founder/CEO, Kerry O'Brien, for my Second Life podcast in 2018, and her episode remains one of my favorites.
2. Abercrombie Corset Sweetheart Sweater Bodysuit ($49)
When I mentioned on social that I was working on this story, I immediately received a flood of DMs telling me to check out Abercrombie, and so I did. It has a lot of options right now, and I ended up trying five or six styles in a range of sizes. To be honest, most of them are not for me; some are how I imagine post-surgical compression garments to fit. Others are externally soft but itchy on the inside.
But there's one that you need, and that is the Corset Sweetheart Sweater Bodysuit.
The material is pleasantly thick and stretchy but doesn't feel like shapewear. It's flirty but not super obvious. And the whole situation felt like an instant mood boost, which I really needed, and I bet you wouldn't mind one either.
So go ahead, buy this one, and take her out to drinks. Even if your date sucks, at least your outfit won't.
3. Madewell Crewneck Bodysuit ($45)
In a world of bodysuits that overpromise and underdeliver, it's nice to know that an option like the Madewell Crewneck Bodysuit exists. Is this a flashy option? No. But is it pleasantly serviceable, a more reasonable price point, relatively inclusive (sizing goes up to 3X), and seemingly more accommodating for a longer torso? The answer to all of these questions is a resounding yes.
Overall, it's a winner.
4. Spanx Suit Yourself Bodysuit ($82)
Are you a former bunhead? Or at least a Center Stage enthusiast? Well, I have a bodysuit for you. This style from Spanx gives me strong ballerina vibes thanks to the lower back and collarbone-grazing neckline.
Of course, Capezio this is not. As you'd imagine from a brand like Spanx, this bodysuit is extremely, extremely stretchy, and while it doesn't have the compression volume turned up all the way to 11, it's close. If this doesn't deter you—and yes, for some, it's unquestionably a selling point!—I think you'll get a ton of wear out of it.
As always, thank you for being here, and thank you for sticking around. If you have any questions or concerns, or want me to touch on any topics in particular, I'm all ears. Leave a comment on Hi Everyone's Bulletin or DM me on Instagram—I'm @hillarykerr—my inbox is always open!