I Bought 36 Pairs of Highly Recommended Pants. These 3 Styles Are Worth Every Penny.
Prior to this, I owned exactly zero pairs of trousers. Progress!

Welcome back to Hi Everyone. I'm so glad you're here! If you like what you're reading, please consider sharing this newsletter with your community and following @hillarykerr on Instagram. Also, FWIW, all products mentioned are independently chosen, and some may be affiliate links. Your support is appreciated.
As I have documented in great detail, I hate pants. Jeans, trousers, soft pants, hard pants, slouchy pants, cigarette pants, carrots, culottes, and capris—they're all dead to me. Pants on other people? Divine! Delicious! Downright chic! But me? Never was a trouser girl.
But that was before.
Before kids. Before the pandemic. Before my unshakable sense of what I wanted to wear—one I'd honed over 38 years of knowing my body and taste pretty darn well—suddenly felt compromised. As I have also discussed, the last handful of years have been physically all over the place. I had two kids in two years, followed by nearly two years of daily exercise, and as you can imagine, that has meant my body's changed drastically several times since I first got pregnant in 2017. And because of that very intense back-and-forth, I feel like I barely understand my shape and size right now.
In addition to that, I haven't seriously assessed my closet in a critical way over the last five years, because what would have been the point? I was either getting pregnant, being pregnant, breastfeeding, or in lockdown. The result of that is a lot of the pieces I used to love in the "before times" don't really feel like me anymore.
And that makes me uncomfortable.
Because in the "before times," I had it figured out. I stuck to a handful of silhouettes and outfit uniforms that I could A) assemble with my eyes closed and B) wear happily. But as I'm going through what feels like a fashion midlife crisis, my beloved old standards and go-to looks aren't satisfying me the way they used to. So I'm starting to try some new pieces and feeling incredibly out of my element but in a really thrilling way.
And that brings us to pants.
Suddenly, it felt odd that I didn't own a single pair of trousers. A few jeans, yes. Some workout leggings, of course. But not a single pair of pants. So I asked around. I started with my friends who work in the industry as stylists, editors, creative directors, and costume designers. I crowdsourced suggestions. I took pants polls at work. I started paying more attention to what pants the women in my Instagram feed were tagging. And then I just started ordering options. From H&M, Zara, Aritzia, Reformation, Shopbop, Net-a-Porter, and more. Slacks on slacks on slacks—36 pairs, in fact. It doesn't sound like a lot, but trust me: It is.
What I Wanted
In terms of what I wanted to try, I had a pretty clear focus. I was looking for styles that were more high-waisted, with or without pleats (but probably with), and preferably a menswear-inspired focus. Mostly black, but open to other colors and subtle prints.
I am always happy to tailor something but have some specific standards. I will tailor the heck out of something inexpensive and not fuss over the price. Same with an expensive piece. But I get annoyed with midrange pieces that require heavy tailoring. Funny, I know.
As for materials, I didn't want cotton or linen, preferring to stick to silky or slightly more formal fabrics that could preferably be worn day to night and season to season.
What Was Hard
Sizing was a bear. The combination of not knowing my body as well as I used to, not all stores having measurements for each size, and picking pants that had more exaggerated silhouettes meant I had to order many additional sizes because I wasn't getting the fit right the first time.
Also, I am somewhat of hourglass in shape, and I found that to get pants to fit my thighs, hips, and butt correctly, I ended up with a waistband that didn't even remotely fit. I knew tailoring would be key here, but I was shocked that it was so much harder to find a great fit off the rack, especially compared to skirts and dresses.
But all my trusted sources kept reminding me of that old truism: Fit the garment to the largest part of your body, and then tailor from there. Some fashion friends said they go up one or two sizes to get the right fit on their lower half and then have the waist taken in. For some reason just hearing that helped, and reminded me to focus on the fit, not the size.
Tailoring can be quite a commitment, but the correct fit makes everything look better and way more expensive, so just know that when budgeting.
Ready to shop? Let's Go
Zara Full Length Pants ($46)
These black modal pants shocked me; they're so good. I bought a medium, and the only thing I'm going to do is change out the button for something that looks and feels more expensive. Oh, and once I decide what my go-to shoes will be, I will hem them, but still deciding. They're soft and slightly drapey but still have a nice structure. The pleats are smaller and don't pucker or pull. And the price is unquestionably right. Plus, they come in FIVE other colors, which is nice. I like them so much I think I might buy a second pair to tailor for sneakers or flat boots.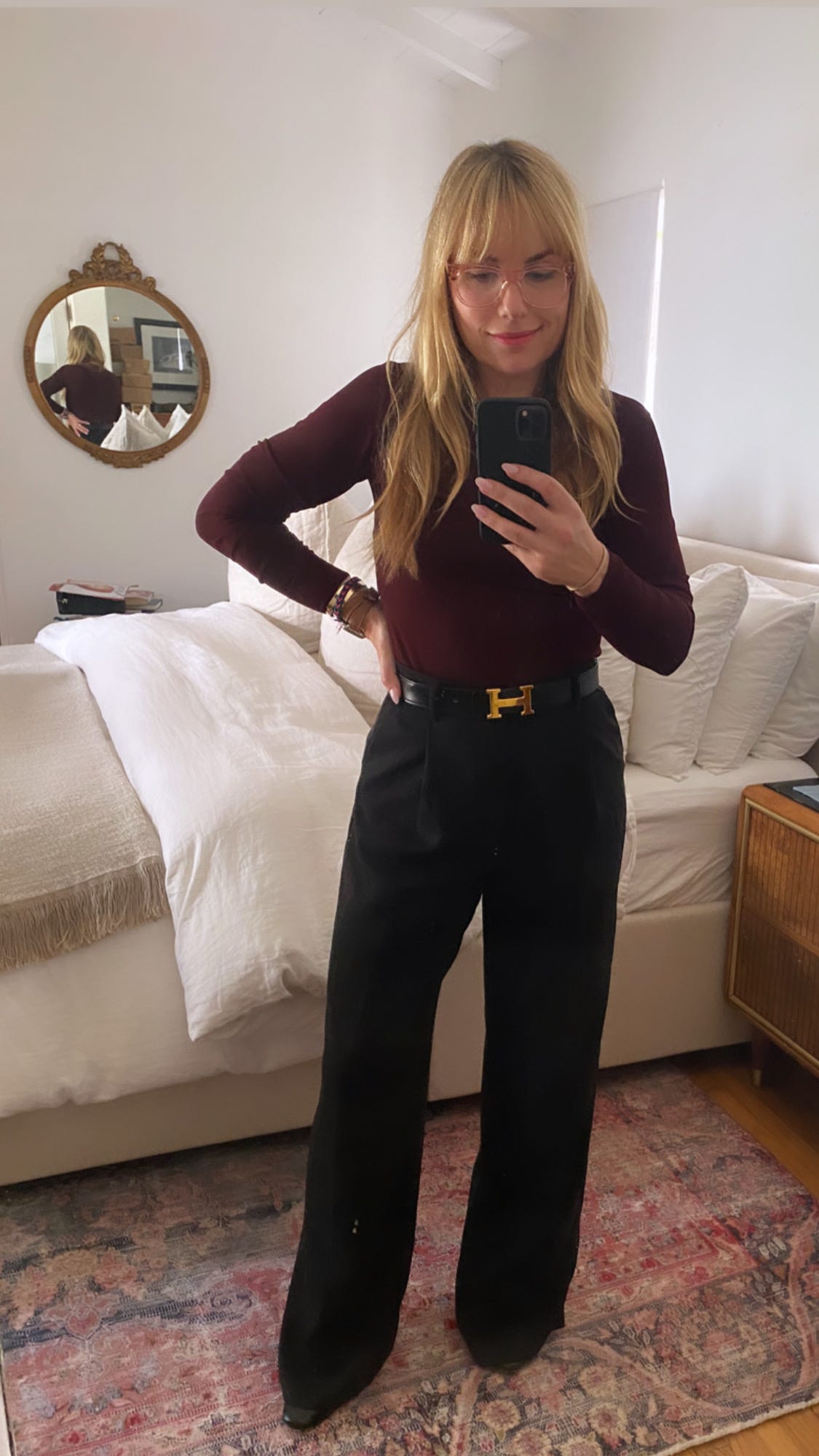 Zara pants, Hermes belt, Theory top, Warby Parker x Amanda de Cadenet glasses, Gucci shoes. (Everything except for the pants are older pieces from my closet.)
Aritzia Wilfred Carrot Pants ($148)
The consensus was overwhelming: I had to try Aritzia. And try I did. I bought so many styles, sizes, and colors, I could barely lift the box. And while I assumed that the beloved Effortless Pant would be my love match, and I do like it, I found this cropped style even easier to wear. Are they the opposite of fall's puddle-pants trend? Kinda, but I liked the fit, the lack of alterations required, and the fact that you get to show off your shoes. I got them in a size 6, regular length, in black, but they come in four other colors and two other lengths.
I know that there's a fair amount of discourse online about these pants, and some folks feel that they are too expensive for polyester pants. Fair enough. However, I would like to point out that the crepe-like material is lighter than regular polyester, plus unlike vintage polyester, they don't smell, and many high-end fashion brands actually use polyester too. Just saying.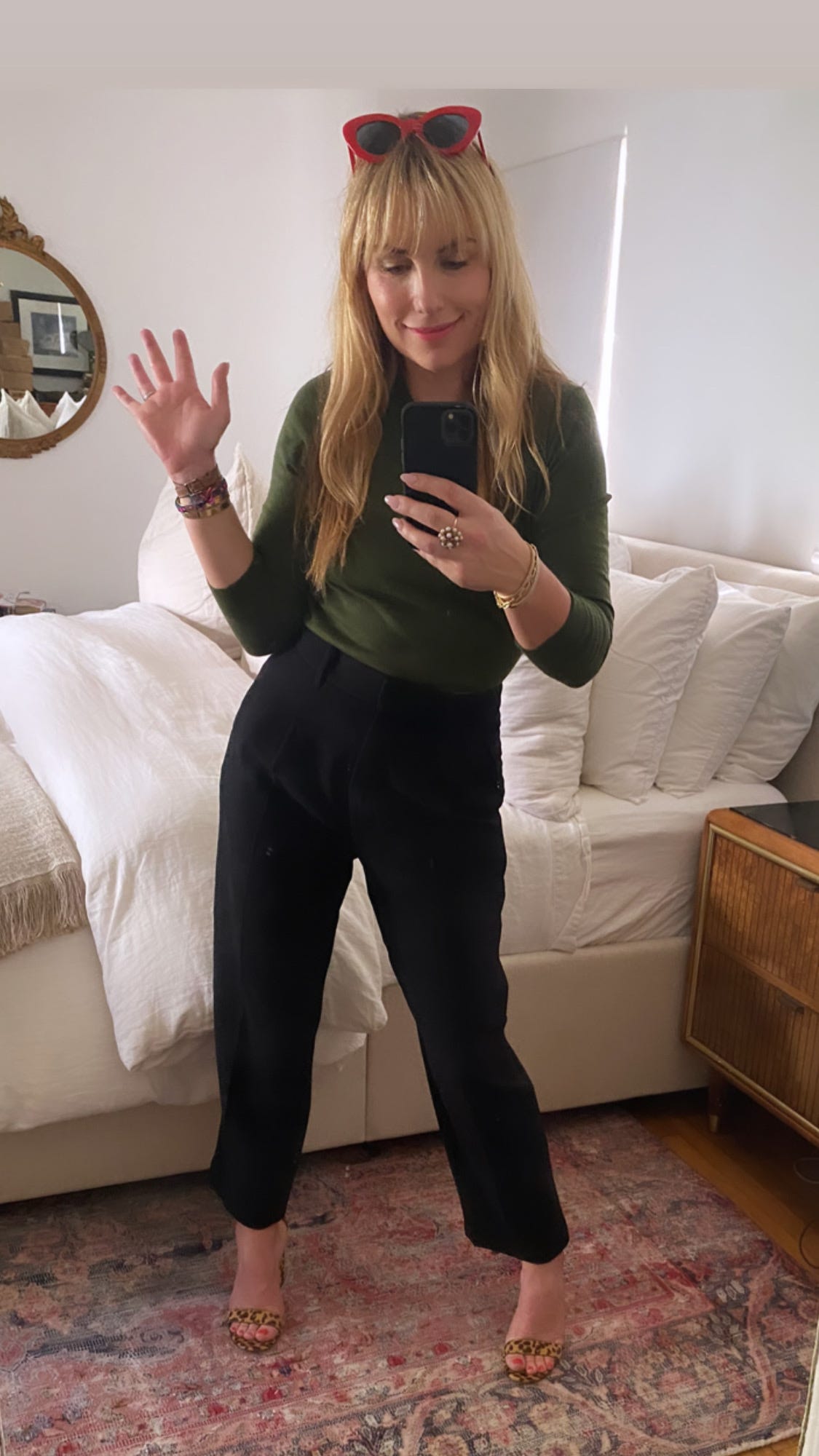 Aritzia pants, vintage J. Crew sweater, J. Crew sunglasses (sadly sold out), Gianvito Rossi sandals. (Everything except for the pants are older pieces from my closet.)
Mônot Pleated Crepe Wide Leg Pants ($695)
When Shiona Turini tells you to buy the pants, you buy the pants, and that's what happened when I posted these very long Mônot trousers. Are they made for someone a foot taller than me? Sure, but that's easy enough to fix. I bought a size 6, so yes, they run pretty true to size.
I love how drapey they are, and the full leg almost feels like a maxi skirt to me, which obviously makes me feel super comfortable. Of all the options I tried, this one is the most universal and truly could be worn year-round for everything from a day in the office to a fabulous party, depending on how you style it. (They're also available at Moda.)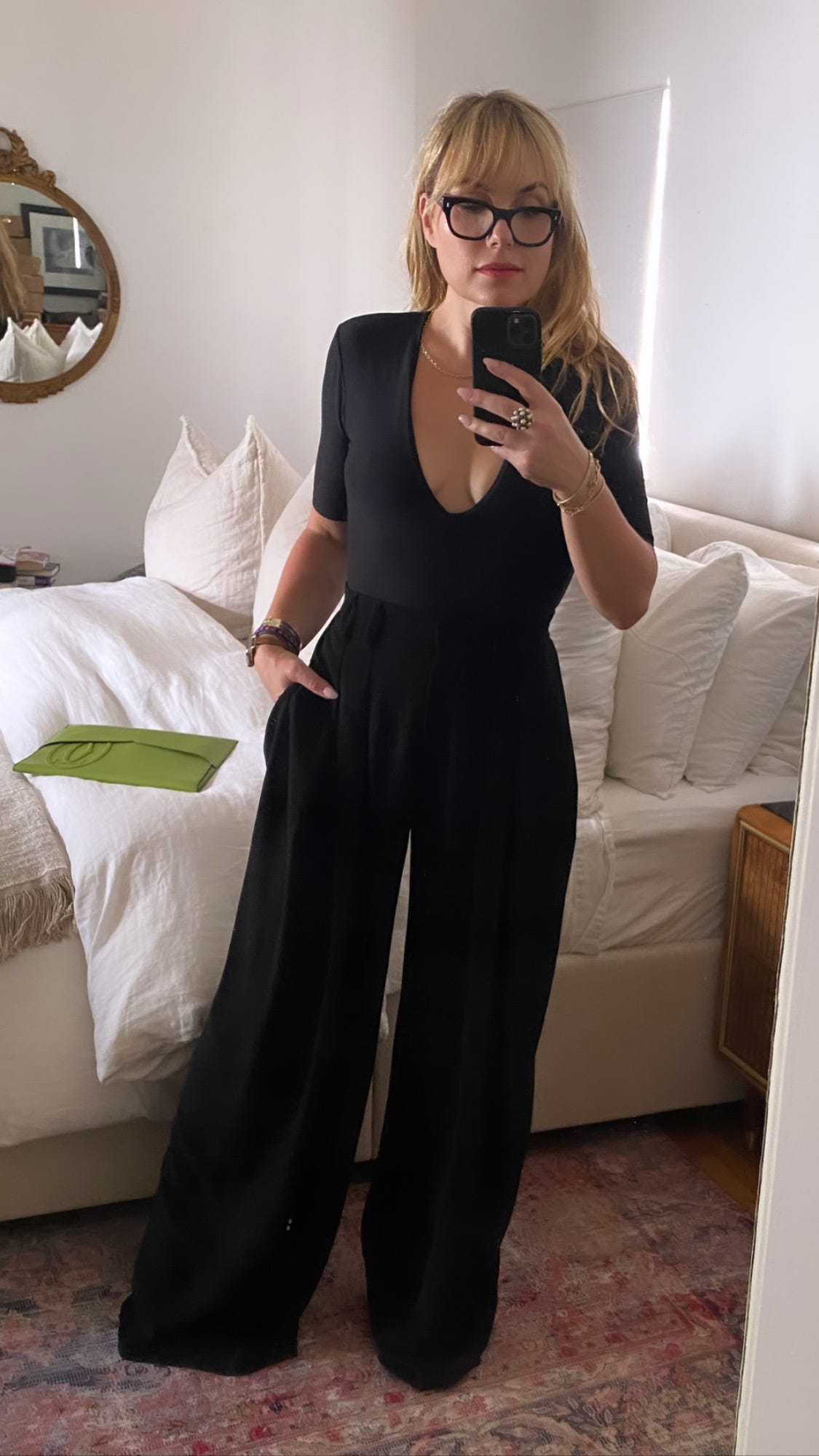 Monot pants, Alix NYC bodysuit, Cutler + Gross 0772 glasses, Fendi heels, Cartier clutch. DL Rhein vintage rug. (Everything except for the pants are older pieces from my closet.)
Other Options: Some other styles that are quite nice on: Isabel Marant's Jessini Wide Leg Pants, which come in midnight and gray, Alice+Olivia's Dylan Pants, which weren't perfect on my body, but I still really loved. Right now, I'm personally not looking for a cotton iteration, but if I was, I'd direct you to Nili Lotan's Cotton Dillion Pants which are so chic and cool on. I adored several Dries Van Noten styles, but they're already sold out. If you're cool with a cargo (turns out I'm not ready, personally), The Frankie Shop makes a good, mid-priced one. One side note: I wanted to love The Row but definitely didn't find my perfect pants, which made me sad, but my wallet happy.
As always, thank you for being here, and thank you for sticking around. If you have any questions or concerns, or want me to touch on any topics in particular, I'm all ears. Leave a comment on Hi Everyone's Bulletin or DM me on Instagram—I'm @hillarykerr—my inbox is always open!