I Bought 29 Pairs of Highly Recommended Jeans. These 5 Made the Cut.
And I hate jeans, so you know these are pretty good.

Welcome back to Hi Everyone. I'm so glad you're here! If you like what you're reading, please consider sharing this newsletter. (Forward to a friend! Share on social! Whatever's clever! Just know it is appreciated.) Also, FWIW, all products mentioned are independently chosen, and some may be affiliate links. Your support is appreciated.
I haven't worn a single pair of jeans in over five years. You think I'm kidding. I'm not. Jeans on other people? I love them. Adore them. But jeans on me? A trickier proposition indeed. Don't get me wrong: I own a bunch of them, and I've even loved a few pairs over the years. (For example: The first-generation run of Current/Elliott jeans? Specifically the bell-bottoms? Absolute heaven.) But for the most part, jeans—pants of any kind, if I'm being honest—are just not my thing. I understand that this is weird, and frankly, I don't want to be this person. I want to be a jeans person. Someone who feels confident in denim. But instead, there's something about jeans that makes me feel exposed. Plus, I just don't think they're that comfortable.
So I stopped wearing them. For years.
The timing was also right. I got pregnant with my first kid in early 2017, then pregnant with my second in late 2018. So I was barely back from parental leave when the pandemic hit, and let's be honest: No one was really wearing "hard pants" at home. And with my body going through the whiplash of making two kids in two years, I certainly wasn't clamoring to stuff myself into an article of clothing that I didn't even love on my best pre-kids days.
But recently, I started getting curious again. The fact that the fit that's in style (and has been for a while) is basically exactly what I wore in high school—I wore thrifted 501s and high-waisted, heavy Gap denim pretty exclusively back then—made me feel like maybe they weren't such a stretch? So I started asking around. I polled the editorial team at Who What Wear. I asked my denim-loving friends about their favorites. I asked you, dear readers, and the folks on Instagram what jeans everyone loved. And then I went full Virgo and made a spreadsheet complete with who suggested what style and why.
And then one night, I decided to face my fear, and I started shopping. I placed a huge order at Net-a-Porter, full of the Agolde jeans that all the fashion girlies wear. I did another round at Shopbop because it always has a great range of covetable denim options. I revisited one of my pre-kids favorites, Madewell, and bought a few new styles. And then I did something that shocked me: On the serious recommendation of some trusted sources, I bought six pairs from Abercrombie, a place I haven't shopped since I was in college. (The reason for my boycott? They shamed me for having the audacity to ask for a pair of bell-bottom khakis—don't ask—in a size 6, which they didn't stock on the floor because they were "too big." Thankfully, times have changed, and the brand has really evolved in an excellent way. More on that in a moment.)
Long story long: I ended up with 29 pairs of jeans at my house.
And I tried them all on. Every single pair.
Did I hate this exercise? No. Did I love it? Also no. But I will say, there is something really wonderful about going through this somewhat challenging exercise in the comfort of my own home, with my own shoes and shirts and accessories at hand.
To that point, I decided to wear the same shoes and shirt for the sake of consistency. The shoes are an old pair of Who What Wear Collection mules with a one-inch heel; the shirt is an old Proenza T-shirt. Some of you asked if I could show each look in a heel and a sneaker, and honestly, I cannot. I picked a shoe that was easy to take on and off; if this disappoints you, I'm sorry.
Also, because so many of you have asked, I am 5'5" and generally a size 6/28 in clothes. Most of the jeans I tried on had a button fly, some had stretch, but most did not, and they were pretty much all a straight-leg silhouette because that's what the kids like these days.
Also, in addition to the five styles I liked the most, there were a few other pairs that intrigued me, but I didn't buy the right size and now have to do an exchange. I will keep you posted on how that goes. For those keeping score at home, I tried on multiple styles from the following brands: Abercrombie, Agolde, Goldsign, Good American, Frame, Levi's, Madewell, Mother, Nili Lotan, Re/Done, and Slvrlake. I know there are so many incredible brands out there—ranging from Zara to Khaite—but this is what I'm working with this time around. And before you ask, the reason most of the jeans I tried are black is because that's what I like. Baby steps, right?
Abercrombie & Fitch '90s Ultra High Rise Straight Jeans ($99) in Medium Wash / 28 Short
I'm just as surprised as you are. Abercrombie? Really? But when I mentioned I was working on this story, I got a flood of messages from very trusted sources recommending this specific style. I was also assured that Abercrombie is now much more inclusive than my college memories of the brand. And on that note, I was delighted to learn that its jeans are available in sizes 23 to 37 in three different lengths (short, medium, and long), plus an extra-short length for sizes 25 to 29.
This exact style comes in 14 (!!!) different washes ranging from very light and moderately distressed to a completely clean style in basic black. The '90s style is also available in both the Straight Ultra High Rise Fit and the Curve Love fit, the latter of which offers two additional inches in the hips for each waist size.
I tried the High Rise Mom Jeans, '90s Ultra High Rise Straight Jeans (in two sizes and two lengths), Curve Love '90s Ultra High Rise, and Curve Love Ultra High Rise Ankle for this experiment and was surprised to discover that I liked the '90s Ultra High Rise Straight Jeans in the shorter length (28.5-inch inseam) best of all.
This pair falls on the more non-stretch side of denim but also has 1% elastane, which makes a big difference in terms of comfort. It also has a zipper, which tends to fit me better than button-fly jeans. Overall, I was really, really impressed. Quality denim, a good price, a big range of styles, plus lots of washes, lengths, and sizes. Well done, Abercrombie. Well done.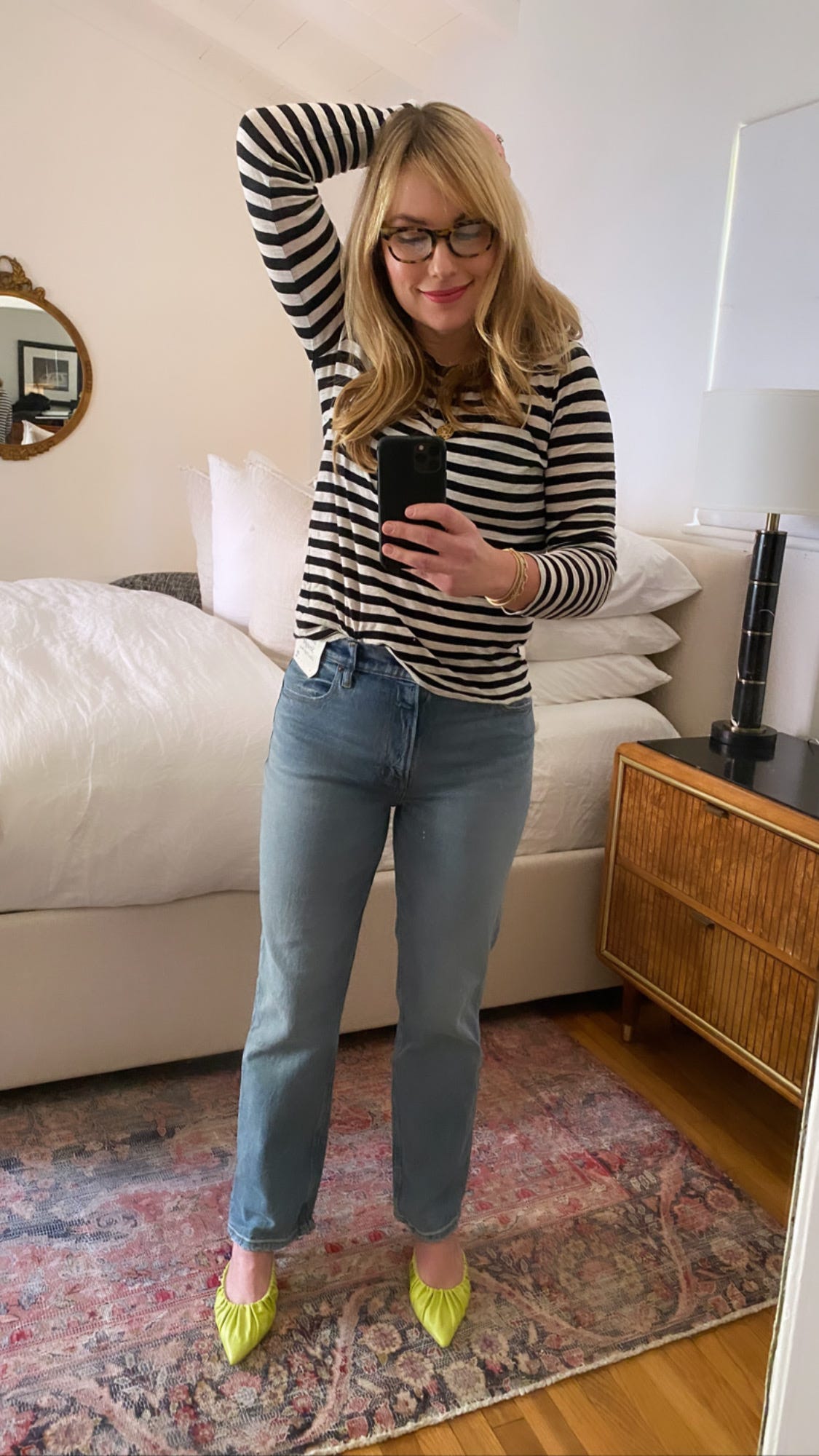 The Abercrombie Jean
Goldsign The Martin High-Rise Straight-Leg Jeans ($295) in Black / 28
Entering this project, I knew the least about Goldsign, but oh wow, do I like this style. While most of the jeans I tried on had the words "straight leg" in their description, this is one of the only styles that actually felt that way and not just skinny-jeans adjacent.
The black denim is slightly faded, but it still looks sharp, and the zip-front, high-waisted fit feels supportive without being constricting. They are 100% cotton but feel softer and more relaxed than similar styles I've tried.
Not sure exactly why, but these feel more authentically '90s than many of the pairs that are marketed as such, and I love them to pieces. 11/10 recommend.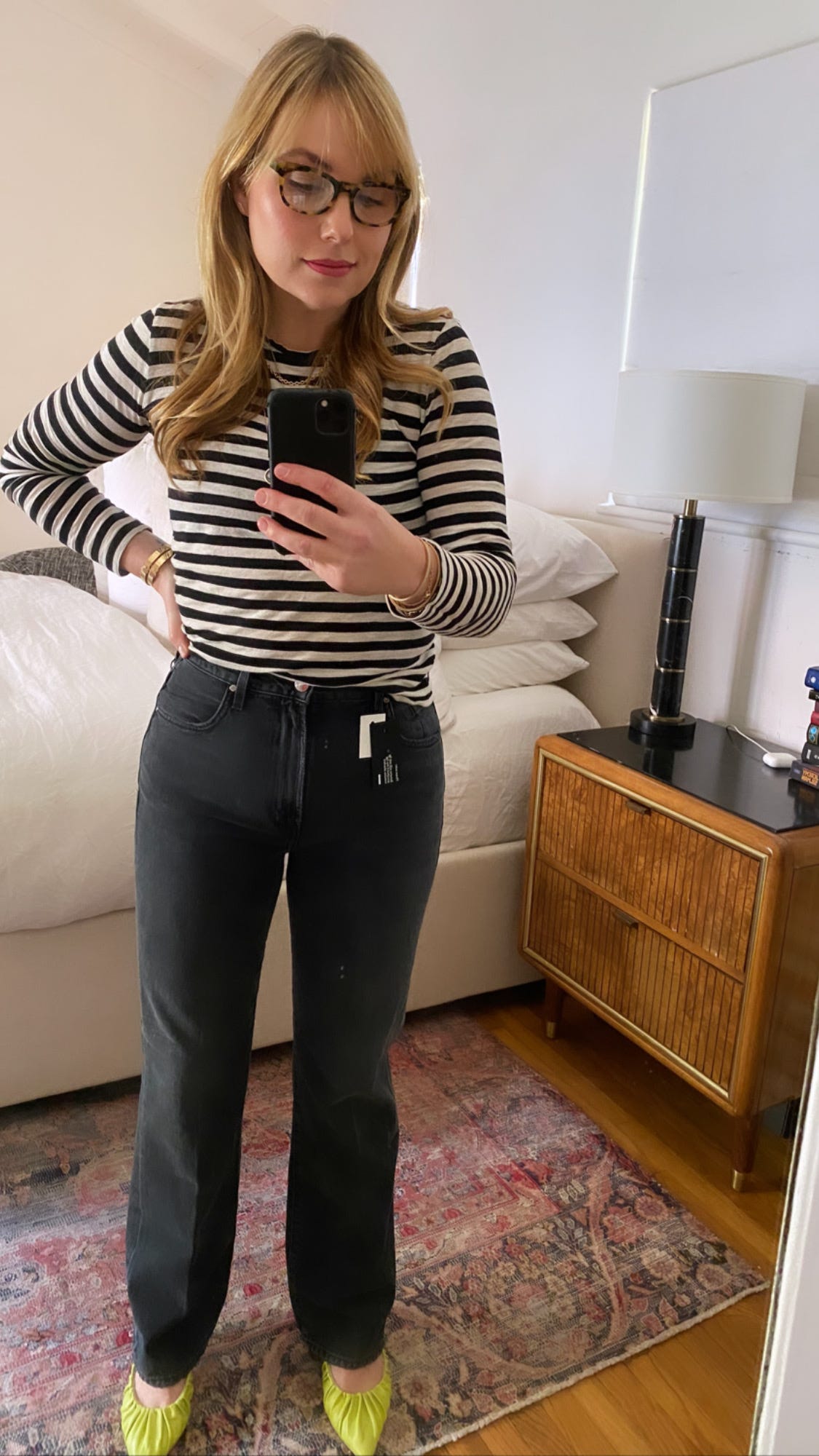 The Goldsign Jean
Agolde Riley Jeans ($178) in Panoramic / 28
When considering which jeans to try, I knew Agolde would be at the top of my list. Every editor I know adores them, and the Pinch-Waist Jeans are covered endlessly on Who What Wear. I tried about six different styles, and while I very much was hoping the Pinch would be for me, it sadly wasn't a great match. I think I would have adored them on my pre-kids body, but I have some lower-ab separation/mild diastasis recti, and my lower stomach area felt very smooshed and spotlighted by that specific style.
But while the Pinch wasn't for me and the Lana (a mid-rise straight-leg) didn't work either, the Riley was wonderful. The denim is pretty heavyweight but also has a little bit of stretch to it, so you get the look of classic, button-fly, no-stretch jeans, but it's so much softer and easier to wear.
The Riley's high-rise, slim-fit style would be a good baby step if you're trying to move away from true skinny jeans but aren't quite ready for a wider straight leg. I also very much liked the cropped length, as it shows off your shoes or boots nicely.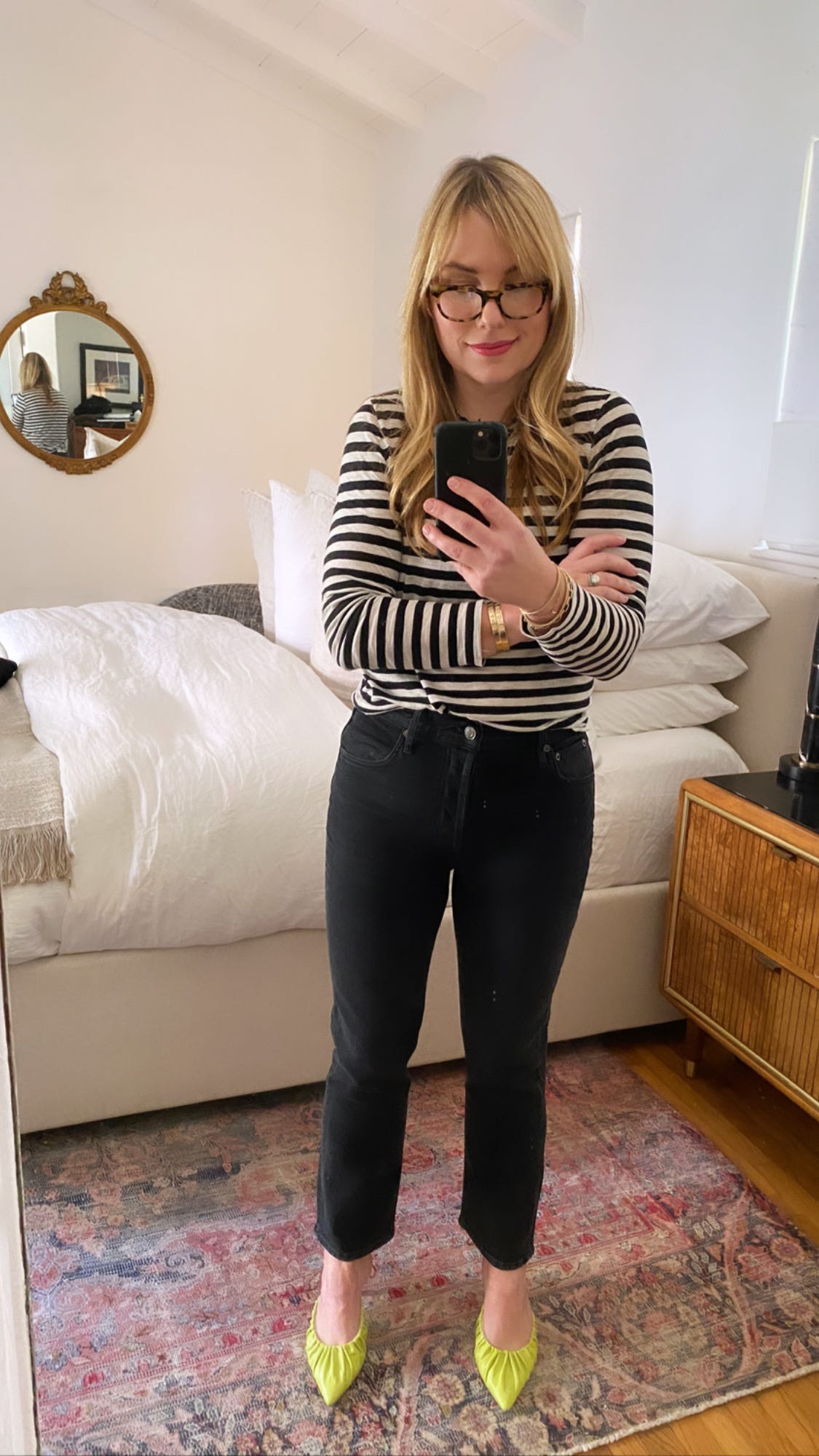 The AGOLDE Jean
Frame Le One Crop Mini Boot Cut Jeans ($228) in Hughes / Size 1
I knew these were magical pants, but I didn't truly realize how otherworldly they were until I put them on. The jeans only come in three sizes—0, 1, and 2—but are made to fit a range of sizes (0 fits sizes 22 to 24, 1 fits sizes 25 to 29, and 2 fits sizes 30 to 34), and honestly, they're pretty dreamy. Plus, as someone who has the pleasure of a fluctuating body, I love this concept, as it means you don't have to spring for new jeans the second your body changes a little.
Unlike the majority of the other styles I tried, these are more of a mid-rise fit, and they're SUPER stretchy— like, much more so than the others. The nice part about that is they didn't cut in on my waist at all, and I feel like they're more flattering from behind because they don't flatten your bum the way so many non-stretch jeans seem to do.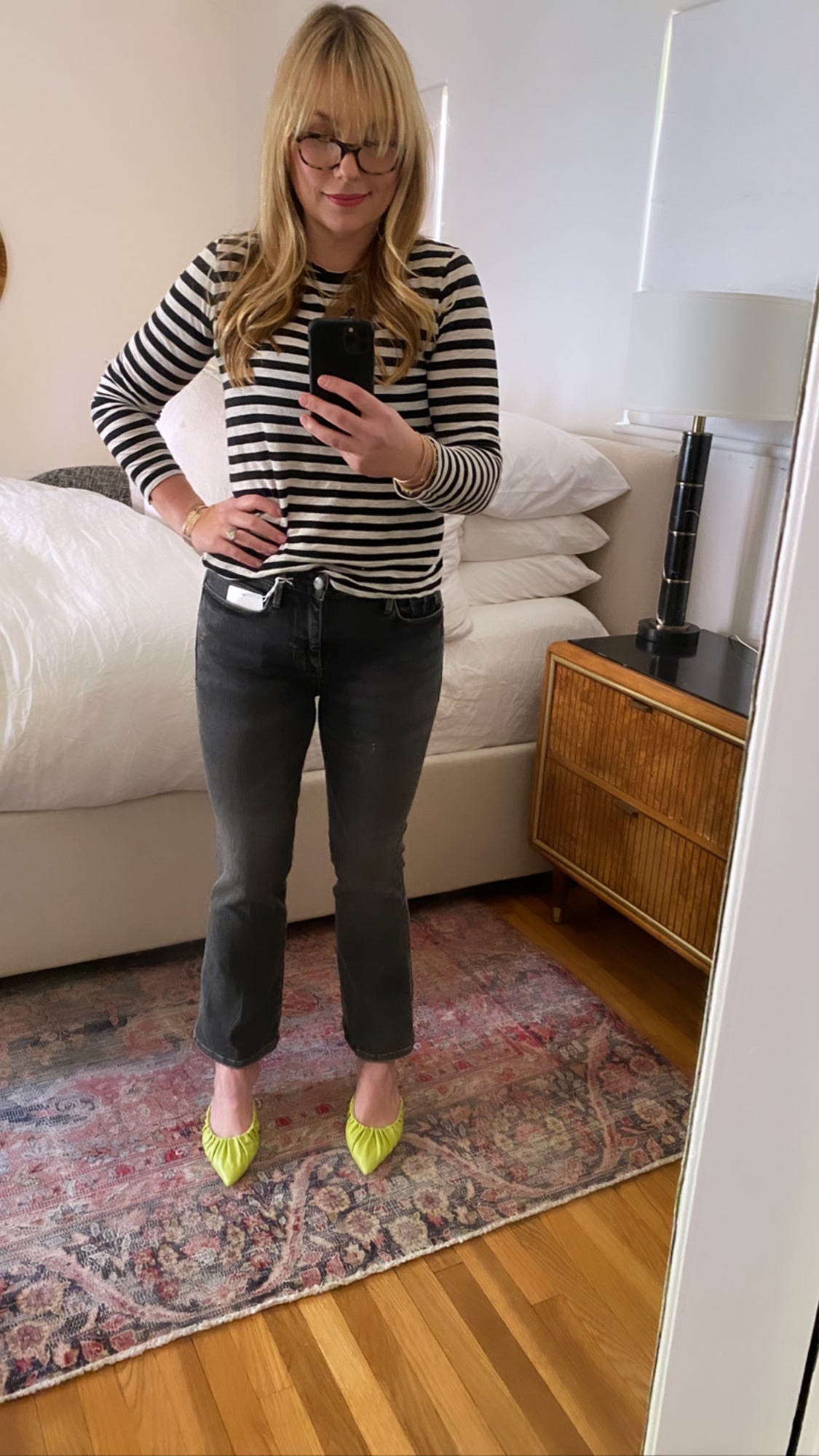 The Frame Jean
Levi's Wedgie Straight Jeans ($98) in Black Heart / 28
The other exceedingly popular recommendation is a classic for a reason. This Levi's style has everything: a high rise, straight-cut leg, button fly, slight stretch, and an ankle-length silhouette. This style felt super familiar to me, probably because I grew up wearing styles that are quite similar.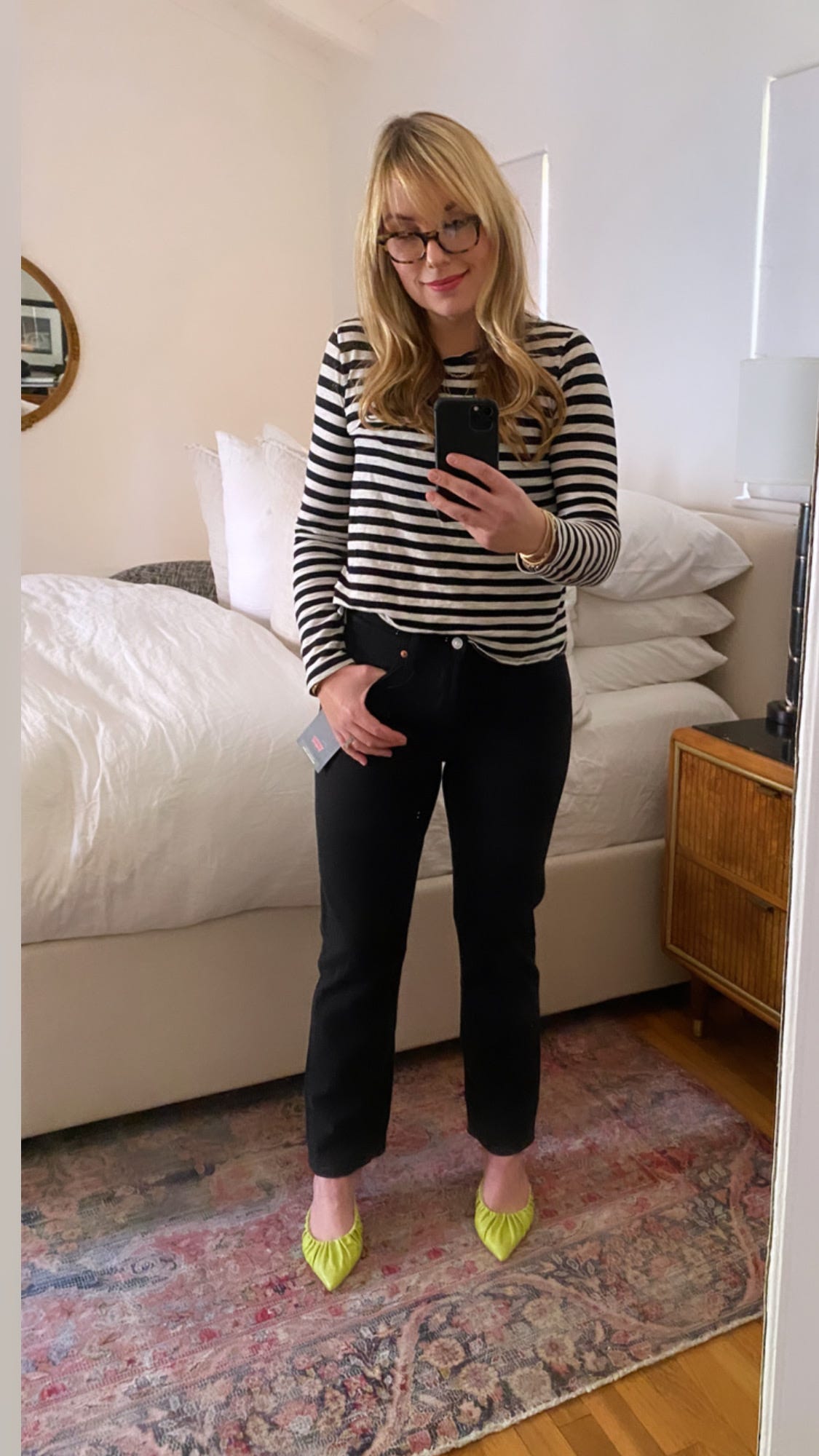 The Levi's Jean
UNDER CONSIDERATION
As I mentioned, I didn't get the right sizes in everything, but there were three pairs that seemed very promising.
Madewell The Perfect Vintage Jeans ($128) in Lunar Wash
Generally speaking, my go-to jeans have been Madwell. I have about five or six pairs, and they have always been stylish and held up well. Plus, I love that they are more inclusive with sizing. (They come in three lengths for sizes 23 to 33 and are also available in 16 to 28). The brand also has a range of styles in this category, including the Perfect Vintage, Perfect Vintage Straight, and the Curvy Perfect Vintage, which has a narrower waist, higher rise, and more room in the thigh and leg.
I ordered a few versions of The Perfect Vintage Jeans, and I really liked them, but again, I got the wrong size. They are made from a heavier denim, which is nice, but they aren't totally rigid, which I personally prefer. I'm also going to try the petite length because I have come to the realization that I do not have the world's longest legs, and I should just deal with that reality.
Agolde Pinch Waist High Rise Kick Jeans ($178) in Placebo
I know, I know. I said I didn't like the Pinch Waist! Well, I don't love it on me, but what I realized is I don't love the style on me in a button fly. This blue (!!!) pair was really quite excellent, and I'm pretty sure that's because it has a zipper fly. The high rise, cropped length, and subtle kick-flare silhouette are wonderful, and honestly, it's the wash that feels closest to vintage. Very much loved and can't wait to try my correct size.
Mother Tomcat Jeans ($248) and High Waisted Rider Ankle Jeans ($198)
Mother is one of those brands that are just delicious. It makes quality products and has a sense of humor, and honestly, I just love its stuff. The Tomcat Jeans came on recommendation from my most denim-knowledgeable friend, and she was right. They are stone-cold excellent. I just bought them in the wrong size. Same with the Rider Ankle Jeans. So both are going back for an adjustment, and I will keep you posted.
As always, thank you for being here, and thank you for sticking around. If you have any questions or concerns, or want me to touch on any topics in particular, I'm all ears. Leave a comment on Hi Everyone's Bulletin or DM me on Instagram—I'm @hillarykerr—my inbox is always open!